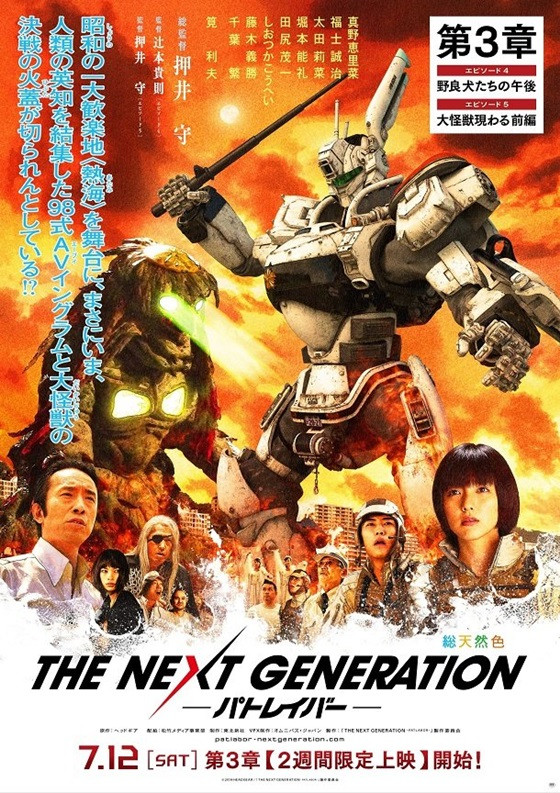 Sebuah trailer untuk bab ketiga dari film seri The Next Generation-Patlabor live action, yang berisi episode keempat "Norainutachi no Gogo" (The afternoon of the stray dogs) dan episode kelima "Daikaiju Arawaru – Zenpen" (Giant monster rises – The first part) telah dirilis.
Episode keempat dimulai ketika Akira melakukan perjalanan ke toko untuk membeli makanan ringan. Di sana, dia ditangkap dan disandera bersama dengan pelanggan lainnya oleh teroris yang telah mengambil alih toko. Datang untuk mencari Akira, Yuma dan Yamazaki juga tertangkap.
Episode lima dimulai ketika seorang peselancar tiba-tiba menghilang di laut. Pada saat yang sama, sebuah rakasa laut besar muncul. Di pantai, ahli biologi kelautan Nobuko Nanami meneliti insiden itu, tetapi Bagian 2 Divisi 2 tim kebetulan berlibur di pantai yang sama. Mereka terjebak dalam penyelidikan ketika wisatawan yang berkunjung sangat antusias untuk melihat robot besar seperti Labor melawan rakasa laut.
[divider]
Trailer
Source: crunchy roll