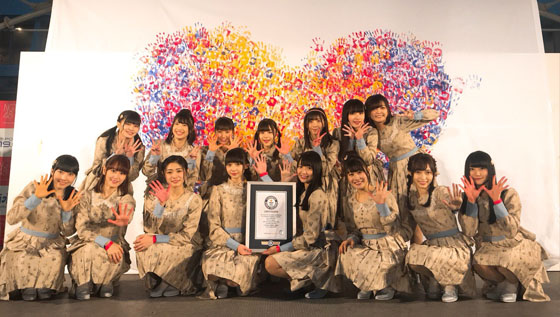 Pada tanggal 8 Januari 2018, NGT48 berhasil memecahkan rekor "The most contributions to a handprint painting in 1 hour" di Guinness World Record yang bertepatan di Lovela 2 dan rekor mereka sebanyak 1231 orang. Sedangkan rekor sebelumnya yang di pegang oleh Quintiles IMS Clinical Operations Team hanya berhasil mencatatkan rekor 1055 orang pada 9 Januari 2017.
Kitahara Rie, selaku Captain NGT48, berkata "Saya sangat terkejut dan saya sangat tidak menyangka bahwa kita bisa memecahkan rekor Guinness World Record".
Selain rekor diatas, NGT48 berhasil memecahkan rekor "Fastest time to make 100 rice balls (Team)" di Guinness World Record pada 9 Januari 2018. Pada awalnya mereka gagal, namun mereka tidak mau menyerah dan mereka mencoba kembali dan berhasil pada percobaan ke 2 dan mencatatkan rekor 4 menit 39 detik.
Sungguh pencapaian yang sangat baik di awal tahun 2018 bagi NGT48.
Source: Oricon