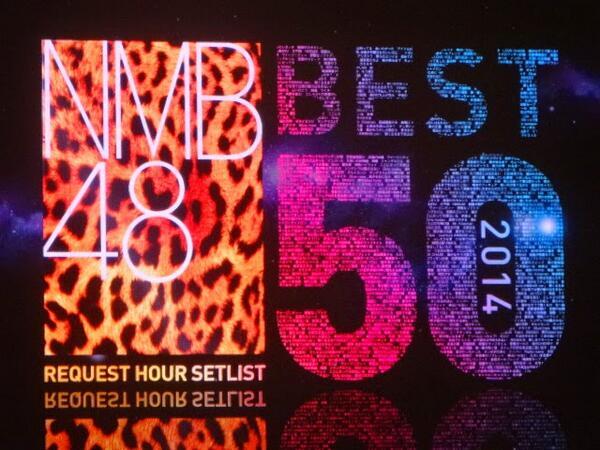 pada tanggal 22 Mei 2014, NMB48 menggelar Request Hour Setlist Best 50 di hari ke 2. mereka sukses memberikan yang terbaik di konser mereka. yang menjadi di peringkat pertama berasal dari lagu Team BII yang berjudul "Almond Croissant Keikaku". Lagu ini dibawakan oleh Original Team BII dan 3 member yang telah Lulus pun Ikut serta dalam lagu ini yaitu Akazawa Honori, Umehara Mako dan Rikako Kobayashi.
berikut daftar list setlist RH50 dari 25-1:
25. Sobakasu no Kiss
24. Mou Hadashi ni wa Narenai (Namba Tepputai Sono Yon)
23. Seishun no Laptime  (1st Generation Members)
22. Kimi to Deatte Boku wa Kawatta
21. Namida no Shounan (Ueda Mirei, Kamieda Emika, Kusaka Konomi, Kushiro Rina, Yamauchi Tsubasa)
20. Tengoku Yarou (Azuma Yuki, Ishida Yumi, Uno Mizuki, Odan Mai, Kawakami Rena, Kinoshita Momoka, Nakano Reina, Nishizawa Rurina, Mita Mao, Yamao Rina)
19. Sunahama de Pistol  (Namba Teppoutai Sono Ichi)
18. O-new no Uwabaki  (Ichikawa Miori, Kondo Rina, Shiroma Miru)
17. Jungle Gym (Yamamoto Sayaka)
16. With my soul
15. Nandeyanen, Idol (Main: Kadowaki Kanako, Kinoshita Haruna)
~MC1~
14. Faint  (Ishizuka Akari, Kusaka Konomi, Kato Yuuka)
13. Kono Sekai ga Yuki no Naka ni Umoreru Mae ni (Kishino Rika, Koga Narumi, Kono Saki, Yamaguchi Yuki )
12. Toki wa Katarihajimeru
11. Yume no Dead Body  (Yamamoto Sayaka)
~MC2~
10. Kataomoi no Taikakusen (Azuma Yuki, Okita Ayaka, Yogi Keira; background dancers: Ishida, Odan, Nakano, Nishizawa, Matsumura, Yamao)
09. Nando mo Nerae! (Ogasawara Mayu, Kadowaki Kanako, Kinoshita Haruna, Kotani Riho, Hayashi Momoka)
08. Itoshiki Natasha (Kinoshita Momoka, Takano Yuki, Tanigawa Airi)
07. Warukii (Watanabe Miyuki)
~MC3~
06. Sunglasses to Uchiakebanashi
05. Fuyushougun no Regret  (Namba Teppoutai Sono Ni)
04. Dazai Osamu wo Yonda ka?  (Yamada Nana, Yamamoto Sayaka, Yokoyama Yui)
03. Yama e Ikou  (Namba Teppoutai Sono Go)
02. Zipper (Jonishi Kei, Yoshida Akari, Watanabe Miyuki)
01. Almond Croissant Keikaku (Original Team BII, Termasuk member yang telah Lulus Akazawa, Umehara and Kobayashi)
 ~ENCORE~
EN1 – Ibiza Girl  (new single) (Senbatsu)
EN2 – Teppen Tottande (all)
EN3 – NMB48 (all)
Pengumuman di Request Hour Setlist Best 50 adalah pengumuman Single ke 10 dari NMB48 yang berjudul "IBIZA Girl". Member senbatsunya adalah:
Team N: Yamamoto Sayaka, Kashiwagi Yuki, Murashige Anna, Kotani Riho, Jonishi Kei, Yoshida Akari, Kato Yuuka, Ota Yuuri
Team M: Yagura Fuuko, Yamada Nana, Shiroma Miru, Fujie Reina, Murase Sae, Tanigawa Airi, Takano Yui,
Team BII: Watanabe Miyuki, Yabushita Shuu, Ayaka Umaeda, Nagisa Shibuya, Takayanagi Akane, Ichikawa Miori, Kanako Kadowaki.
Ota Yuuri pertama kali masuk Senbatsu Single NMB48