Distributor film di Asia Tenggara yaitu Odex, pada hari Jum'at kemarin (18/5), telah mengumumkan bahwa movie yang diadaptasi dari manga karya Yuki Midorikawa yaitu Natsume Yuujin-Chou akan tayang di Indonesia. Movie yang akan tayang ini berjudul Gekijouban Natsume Yūjin-Chō: Utsusemi ni Musubu (Natsume's Book of Friends the Movie: Tied to the Temporal World) pada akhir tahun 2018.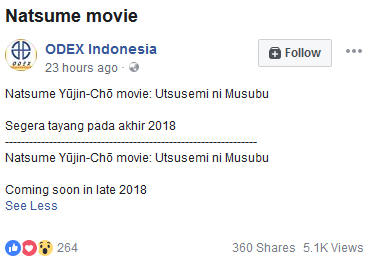 Di negara asalnya, film ini akan diputar perdana pada tanggal 29 September mendatang, dan akan memuat cerita original dibawah pengawasan Midorikawa sendiri.
Daftar para pengisi suara berikut karakter yang diperankan:
Hiroshi Kamiya (Takashi Natsumi)
Kazuhiko Inoue (Nyanko-sensei)

Sanae Kobayashi (Reiko Natsume)
Akira Ishida (Shuuichi Natori)
Kazuma Horie (Kaname Tanuma)
Ryohei Kimura (Satoru Nishimura)
Hisayoshi Suganuma (Atsushi Kitamoto)
Miyuki Sawashiro (Jun Sasada)
Rina Satou (Tooru Taki)
Miki Itou (Touko Fujiwara)
Eiji Itou (Shigeru Fujiwara)
Satsuki Yukino (Hiiragi)
Akemi Okamura (Hinoe)
Takayaka Kuroda (Misuzu)
Chou (Chobihige)
Takashi Matsuyama (Arwah Kelas Menengah Bermata Satu)
Hiroshi Shimozaki (Arwah Kelas Menengah Berwajah Ox)
Kyoko Chikiri (Kappa)
Studio Shuka akan kembali menjadi rumah produksi untuk movie ini. Takahiro Oomori akan menjadi ketua sutradaranya dan Hideki Ito akan menjadi sutradara baru di movie ini. Sadayuki Murai kembali menjadi penanggung jawab komposisi, Tatsuo Yamada akan mendesain karakter untuk youkai. Makoto Yoshimori akan menangani bagian lagu.