Hayo, siapa di sini yang mantengin Ookami Shoujo to Kuro Ouji (Wolf Girl and Black Prince). Itu lho, kisah Sata Kyoya dan Shinohara Erika. Dimana Erika pernah berbohong sama temen sekelasnya kalau dia memiliki pacar dengan tujuan mendapat teman.
Dilansir dari situs resmi live-action Wolf Girl & Black Prince, karya mangaka Ayuko Hatta ini akan rilis pada 28 Mei 2016.
Penasaran siapa yang jadi Kyoya sang pangeran ganteng namun "keji" dan Erika si "wanita rubah"? Perhatikan baik-baik foto di bawah ini :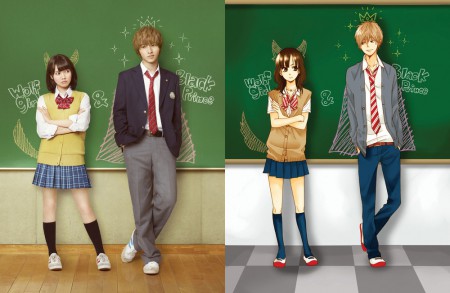 Aktris cantik Fumi Nikaido akan berperan sebagai Erika Shinohara sedangkan aktor tampan Kento Yamazaki berperan sebagai Kyoya Sata akan menghiasi live-action yang telah melahirkan 12 episode dalam anime-nya.
Wah, kalo author sih gak sabar mau nonton, kalo J-Friends gimana?
source : Anime News Network