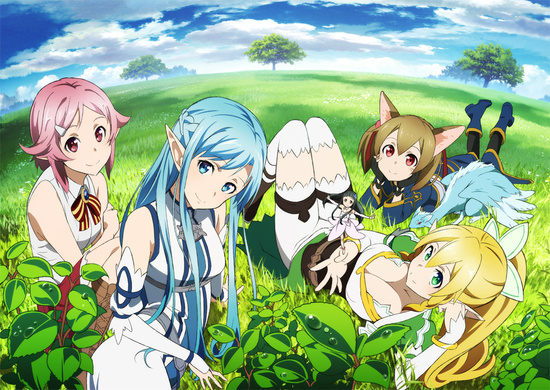 Website Dengeki memulai streaming iklan 15 detik untuk Anime Sword Art Online: Extra Edition pada hari Kamis. Video ini menampilkan lagu tema "Niji no Oto" (The Sound of the Rainbow) oleh Eir Aoi.
Aniplex menggambarkan jalan ceritanya:
"Kirito dan yang lain memutuskan untuk pergi dalam misi di bawah air dalam dunia ALO untuk mengabulkan keinginan Yui untuk melihat ikan paus. Mereka semua sudah mempersiapkan diri untuk menjalani misi, mereka dihadapi kenyataan yang mengejutkan… Leafa, atau Suguha takut dengan air. Jadi, Asuna dan anggota perempuan lainnya memutuskan untuk mengajarkan Suguha bagaimana cara untuk berenang di kolam renang di dunia nyata. Sementara itu, Kirito bertemu seseorang…"
Novelis Reki Kawahara ambil bagian dalam penulisan naskah selama dua jam penuh. Tomohiko Ito kembali untuk mengarahkan di A-1 Pictures. Ilustrator seri light novel original abec juga memberikan makeover penuh pada karakter, dan desainer karakter Shingo Adachi sekali lagi mengadaptasi seni abec untuk anime. Para pemain juga kembali dari seri anime televisinya.
Premiere khusus ini akan ditayangkan di Tokyo MX TV, BS11, dan NicoNico di Jepang pada tanggal 31 Desember pukul 10:00 JST.
Khusus streaming untuk seluruh dunia pada tanggal 1 Januari di Crunchyroll dan Daisuki untuk negara-negara berbahasa Inggris, Meksiko, dan Amerika Tengah dan Selatan, segera setelah premiere di Jepang. The special akan streaming di Korea pada saluran kabel Aniplus, di Cina pada situs streaming LeTV, dan di Perancis pada streaming Wakanim situs. Daisuki juga akan streaming khusus di Singapura, Malaysia, Filipina, Indonesia, negara-negara berbahasa Jerman, negara-negara berbahasa Italia, negara-negara berbahasa Rusia, India, dan Timur Tengah.
Sumber: AnimeNewsNetwork