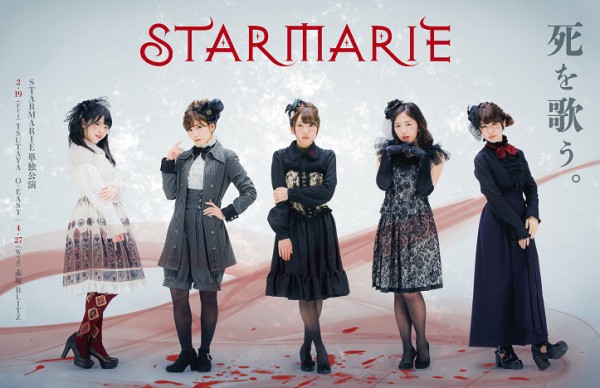 Konser solo STARMARIE bertajuk "Shi wo Utau" (Sing of Death) dan sudah diprediksikan sebelumnya, tiket untuk pertunjukan tersebut yang digelar pada 19 Februari lalu di TSUTAYA O-EAST telah terjual habis.
Emi Nitta, member dari μ's serta pengisi suara Honoka Kousaka dari anime Love Live memberikan narasi pembukaan dalam latar musik. Setelah acara dimulai, STARMARIE membawakan 19 lagu yang terdiri dari "Maborogi no Kaijin ~Chouchou Senkyo-hen~" dan "Stella to Subaru no Uchuu no Love Story" tanpa jeda MC.
Di akhir acara, STARMARIE membawakan lagu "Hime wa Ranki Ryuu Go-ichigyou-sama", lagu tersebut akan digunakan sebagai theme song untuk anime Onigiri, anime tersebut akan ditayangkan di TOKYO MX mulai tanggal 6 April mendatang. Lagu tersebut akan dirilis oleh Bushi Road Music di dalam single "Stella to Subaru no Uchuu no Love Story" yang akan dirilis tanggal 20 April mendatang.
Tiket untuk pertunjukan solo STARMARIE tanggal 10 April di Osaka ESAKA MUSE, 17 April di Nagoya LIVE HALL M.I.D, dan 27 April di Akasaka Blitz di Tokyo, akan mulai dijual pada 19 Februari di e+.
STARMARIE TouMeiHan (Tokyo Nagoya Osaka) Tour FANTASY TRIP ~Dai-ni-maku Hoshi Matsuri no Yoru~
April 10, 2016 (Minggu)
ESAKA MUSE (Osaka)
Open: 4:30pm Start: 5:00pm
April 17, 2016 (Minggu)
Nagoya LIVE HALL M.I.D
Open: 4:30pm Start: 5:00pm
April 27, 2016 (Rabu)
Akasaka BLITZ (Tokyo)
Open: 6:30pm Start: 7:30pm
*waktu dalam JST*