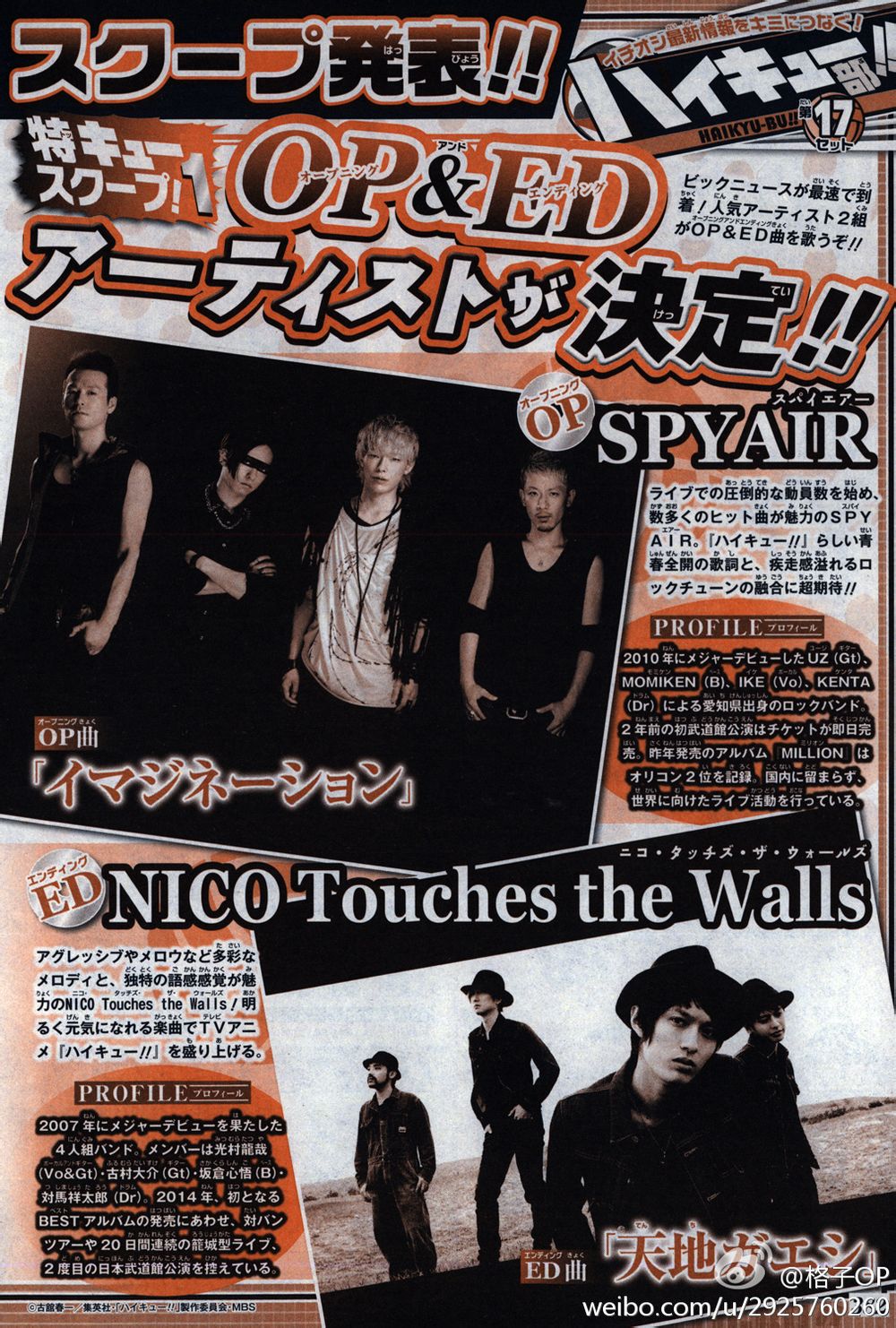 Majalah Weekly Shounen Jump Shueisha volume ke-12 tahun ini mengumumkan pada hari Senin bahwa band Spyair dan NICO Touches the Walls akan mengisi lagu tema pembuka dan penutup untuk serial anime TV "Haikyu!!. Spyair (Gimtamaa, Bleach, Mobile Suit Gundam AGE, Samurai Flamenco) menyumbangkan lagu "Imagination", sementara NICO Touches the Walls (Fullmetal Alchemist: Brotherhood, Naruto Shippuuden, C – Control – The Money and Soul of Possibility) menampilkan "Tenchi Gaeshi".
Selain itu, single SPYAIR yang berjudul Imagination ini akan dirilis tanggal 30 April. Sementara untuk lagu dari NICO Touches the Walls yang berjudul Tenchi Gaeshi belum diketahui kapan dirilisnya.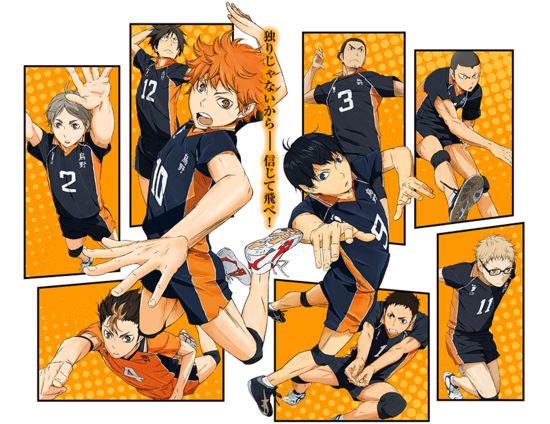 Cerita dari original manga karya Haruichi Furudate ini berkisah tentang Shouyou Hinata, yang mulai bermain voli setelah melihat pemain inspiratif dengan julukan "Raksasa Kecil" saat duduk di bangku SD. Hinata mengalami kekalahan pada pertandingan pertama dan terakhirnya di SMP di tangan saingannya, Tobio Kageyama. Karena itu, Hinata bergabung dengan tim voli SMA Kurasuno, bersumpah untuk membalas dendam pada Kageyama.
Tetapi, Kageyama ternyata juga bergabung dengan tim Kurasuno. Mantan saingan ini membentuk kombo legendaris dengan gerakan Hinata dan cara Kageyama menangani bola. Bersama-sama, mereka berjuang di turnamen lokal dan berumpah untuk bertemu dengan saingan takdir SMA Kurasuno di tingkat nasional.
Anime "Haikyu!!" akan tayang perdana di Jepang pada bulan April.
[divider]
Source: animenewsnetwork