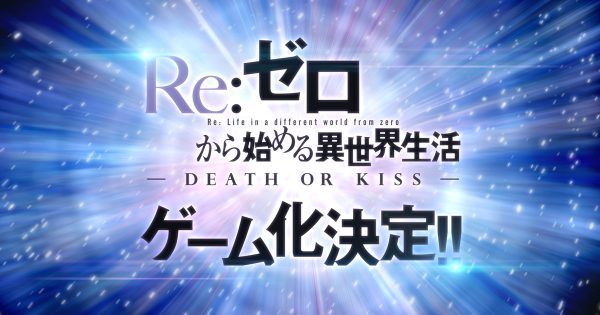 Website resmi dari game "Re:Zero -Death or Kiss-" (Re:Life in a different world from zero -Death or Kiss-), pada hari Jum'at 6 Januari 2017 kemarin mulai menayangkan opening dari gamenya. Videonya memperdengarkan lagu opening yang dinyanyikan oleh Konomi Suzuki berjudul "yell! ~Kuchibiru Kara Hajimaru Mahou~" (Magic That Begins With the Lips).
Game ini akan memiliki cerita orisinal sebelum royal election, dan juga akan ada event yang berjudul "Beauty Queen Election". Para kandidat royal election harus ikut dalam sebuah kontes kecantikan, dimana pemenangnya akan mendapatkan sebuah Metia, hadiah yang seharusnya membawa keberuntungan. Karena berbagai sebab, Subaru tidak sengaja mencium hadiah tersebut dan dikutuk akan mati kalau tidak mendapatkan "ciuman penuh perasaan." Subaru kemudian menggunakan kesempatan turnamen tersebut untuk mendekatkan dirinya dengan salah satu kandidat dan mencegah kematiannya.
Game ini akan memiliki 8 ending berbeda dari 8 wanita yang berbeda juga, termasuk Emilia, Ram, Rem, Beatrice, Felt, Priscilla, Anastasia, dan Crusch.

Game ini  akan dirilis ke pasaran pada 23 Maret 2017 untuk console PSVita dan PS4. Versi regulernya akan dihargai sebesar 7.500 yen (sekitar 937 ribu rupiah), dan untuk versi Limited dari game ini akan dihargai sebesar 10.500 yen (sekitar 1,3 juta rupiah), dan versi digital dihargai seharga 7.000 yen (sekitar 875 ribu rupiah).
Versi terbatas dari game ini akan mendapatkan CD yang berisi lagu opening serta ending dari gamenya, serta sebuah SD figure. Untuk versi terbatas PS4 akan mendapatkan figure Ram dan untuk versi PSVita akan mendapatkan figure Rem.
Inori Minase dan Rie Murakawa selaku pengisi suara dari karakter Rem dan Ram akan menyanyikan lagu ending gamenya yang berjudul "Dai Dai Daisuki"
Sumber : ANN