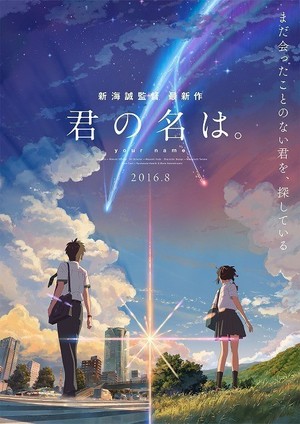 Band Rock RADWIMPS akan mengisi soundtrack untuk anime Kimi no Na Wa. (Your Name.), Movie anime terbaru yang ditulis dan disutradarai langsung oleh Makoto Shinka (Voice of a Distant Star, 5 cm per Second, The Garden of Words). Tema "Zen Zen Zense" akan didampingi oleh 20 lagu lebih tampil sebagai Background musik.
Di dalam anime ini, karakter Taki Tachibana (seiyuu oleh Ryunosuke Kamiki) adalah seorang pemuda yang tinggal di Tokyo. Sementara Mitsuha Miyamizu (seiyuu oleh Mone Kamishiraishi) adalah seorang wanita muda yang tinggal disebuah kota di Jepang. Dua kekasih yang bernasib sial bersatu di jarak yang sangat jauh ketika mereka berdua mengalami mimpi yang aneh secara bersamaan.
Nah untuk desain karakternya dikerjakan oleh Masayoshi Tanaka (Anohana: The Flower we Saw that Day) dan animasi oleh Comix Wave Films. Film ini dijadwalkan akan tayang di bioskop Jepang pada bulan Agustus 2016.
Source: crunchyroll