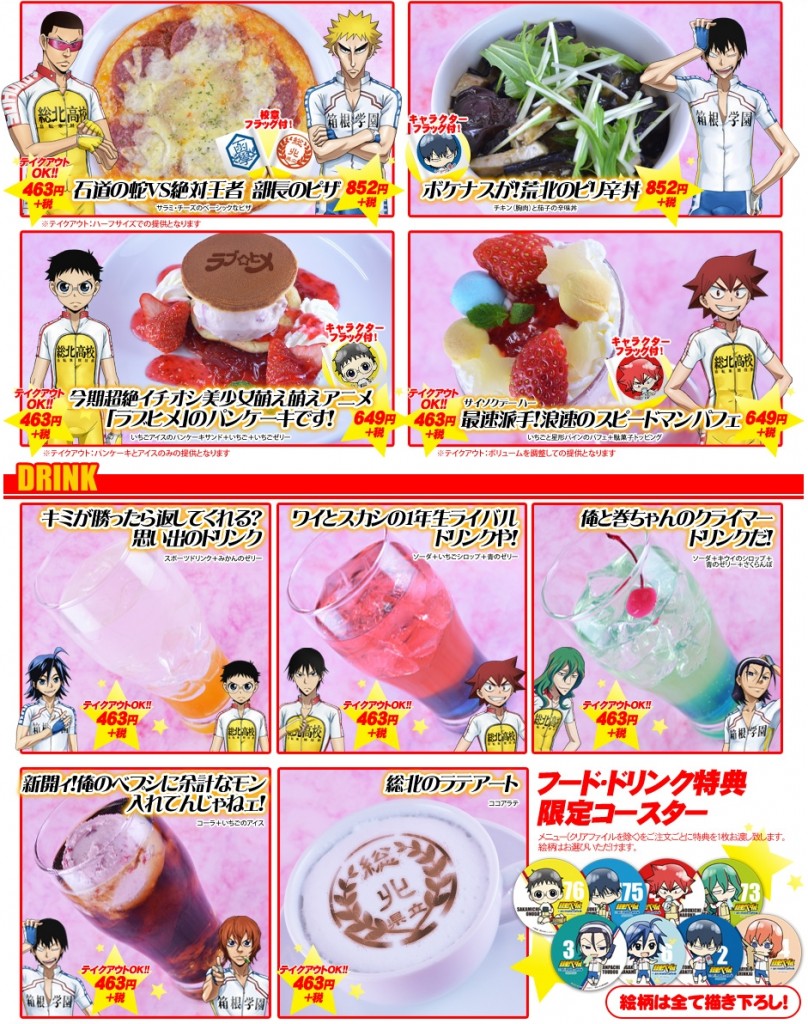 Animate Cafe mulai bulan ini menghadirkan "Yowamushi Pedal" di lokasi Sannomiya dan truk makanannya.
Sementara truk makanan hanya menawarkan minuman, kafe di Sannomiya menawarkan makanan yang terinspirasi dari karakter "Yowamushi Pedal", seperti "Snake of the Stone Path vs Absolute King – Captain's Pizza," "Stupid Eggplant! Arakita's Spicy Eggplant Bowl," "This Season's Recommended Bishoujo Moe Moe Anime Love HIme Pancake," dan "Fastest and Flashiest! Naniwa's Speed Star Parfait." Kafe ini juga menawarkan minuman khusus yang didesain menyerupai saingan dan kemampuan para karakter, begitu juga dengan latte SMA Sohoku. Pesanan minuman akan dihidangkan beserta dengan alas minum yang sesuai dengan referensi karakternya.
Para penggemar juga bisa membeli gantungan kunci seharga 300 yen, clear file A4 dengan 350 yen, dan set decorated rusk coookies dengan 500 yen.

Kampanye "Yowamushi Pedal" ini akan berlangsung mulai 15 April hingga 13 Juli di kafe Sannomiya, dengan menu yang akan berubah setelah 14 Mei, dan 28 April hingga 1 Juni di truk makanan.
Source: animenewsnetwork