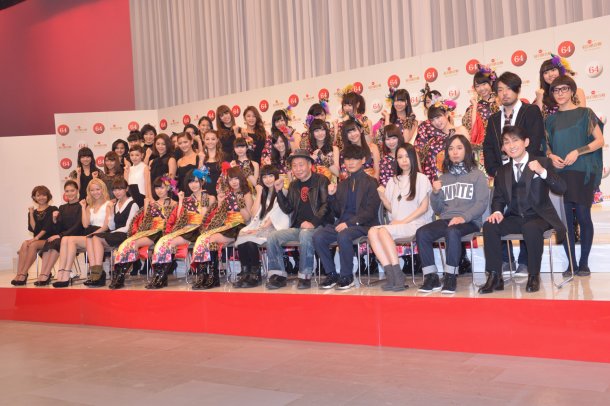 Artis yang akan hadir di "NHK Kohaku Uta Gassen ke-64" yang akan disiarkan di NHK pada Selasa, 31 Desember mendatang telah diumumkan.
Di Kohaku Uta Gassen kali ini sebanyak 51 set dibagi menjadi 2, yaitu tim merah dan tim putih. Tim merah mendapatkan 25 set dan tim putih mendapatkan 26 set. Artis debutan meresmikan 9 set, yaitu Linked Horizon dengan lagu "Guren no Yumiya (Kohaku Special ver.)", Sexy Zone dengan lagu "Sexy Heiwa Zone Kumikyoku", Shigeru Izumiya dengan lagu "Shunkashuto 2014", miwa dengan lagu "Hikari e", NMB48 dengan lagu "Kamonegikkusu", dan E-girls dengan lagu "E-girls Kohaku Special Medley 2013". Lalu ada Chris Hart yang berkolaborasi dengan Seiko Matsuda dengan lagu "New Year's Eve Special Love Song Medley 2013" dan Nana Mizuki yang berkolaborasi dengan T.M.Revolution dengan lagu "-Kakumei 2013- Kohaku Special Collaboration". Lalu ada penampilan terakhir dari Saburo Kitajima yang membawakan lagu "Matsuri".
Masaharu Fukuyama yang menyanyikan lagu 2013 Special Medley melakukan countdown live sendiri "Fukuyama Fuyu no Dai Kanshasai Sono Juu San" yang disiarkan langsung dari Kanagawa Pacifico Yokohama. Event countdown Kohaku tahun ini yang berjudul "2013 Taipei New Year's Party" akan diadakan di Balai Kota Taipei dan program ini akan diperluas dengan menghubungkan 3 tempat, yaitu NHK Hall, Pacifico Yokohama, dan Taipei.
Berikut adalah artis yang berpartisipasi dalam Kohaku Uta Gassen beserta lagu yang dibawakan:
[divider] [
Tim Merah
]
aiko – Loveletter
E-girls – E-girls Kohaku Special Medley 2013
Ikimonogakari – Egao
Sayuri Ishikawa – Tsugarukaikyo Fuyugeshiki
AKB48 – Kohaku 2013 SP ~AKB48 Festival!~
SKE48 – Sansei Kawaii!
NMB48 – Kamonegikkusu
Kyary Pamyu Pamyu – Kohaku 2013 Kyary Pamyu Pamyu Medley
Kaori Kozai – Sake no Yado
Natsuko Godai – Kinmokusei
Fuyumi Sakamoto – Otoko no Hi Matsuri
Mariko Takahashi – for you…
Yoshimi Tendo – Furusato Ginga
DREAMS COME TRUE – Saa Kane wo Narase
AAA – Koioto to Amazora
Kana Nishino – Sayonara
Perfume – Magic of Love
Ayumi Hamasaki – INSPIRE
Ayako Fuji – Akai Ito
Seiko Matsuda – New Year's Eve Special Love Song Medley 2013
Nana Mizuki – -Kakumei 2013- Kohaku Special Collaboration
Kaori Mizumori – Ise Meguri
miwa – Hikari e
Momoiro Clover Z – Momoiro Kohaku 2013 da Z!!
Akiko Wada – Ima de mo Anata
==========
[
Tim Putih
]
Arashi – New Year's Eve Medley 2013
Shigeru Izumiya – Shunkashuto 2014
Hiroshi Itsuki – Hakata A La Mode
EXILE – EXILE PRIDE ~Konna Sekai wo Aisuru Tame~
Kanjani 8 – Kohaku Nidome! Yobarete Tobidatejejejeje!!
Saburo Kitajima – Matsuri
Chris Hart – New Year's Eve Special Love Song Medley 2013
Hiromi Go – Bang Bang
Golden Bomber – Memeshikute
Kobukuro – Ima, Sakihokoru Hanatachi yo
Sakanaction – Music
SANDAIME J Soul Brothers – Fuyu Monogatari
SMAP – Joymap!!
Sexy Zone – Sexy Heiwa Zone Kumikyoku
T.M.Revolution – -Kakumei 2013- Kohaku Special Collaboration
TOKIO – AMBITIOUS JAPAN
Hideaki Tokunaga – Yume wo Shinjite
Kiyoshi Hikawa – Manten no Hoshi
Kohei Fukuda – Nambu Semishigure
Masaharu Fukuyama – 2013 Special Medley
Takashi Hosokawa – Naniwabushi da yo Jinsei wa 2013
Porno Graffitti – Seishun Hanamichi
Akihiro Miwa – Furusato no Sora no Shita ni
Shinichi Mori – Erimomisaki
Yuzu – Amenochi Hareruya
Linked Horizon – Guren no Yumiya (Kohaku Special ver.)
*Chris Hart bernyanyi bersama Seiko Matsuda & T.M.Revolution bernyanyi bersama Nana Mizuki.
Jadwal acaranya:
General Radio NHK 1 "NHK Kohaku Uta Gassen ke-64"
Selasa, 31 Desember 2013 pukul 19:15-23:45 JST
*ada selingan berita selama 5 menit